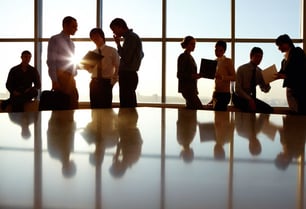 People in my industry, including myself, talk an awful lot about "Feedback." To a degree that makes it seem like it's this huge, daunting thing. It has gotten to the point where we talk so much about feedback and emphasize the importance of feedback to such a level that we forget one important truth. Rather than being a huge deal, or something to be afraid of, remember that feedback is a conscious conversation that most often takes less than one minute.
You may be wondering how that can be – after all, we schedule one-on-one coaching sessions with our employees and we use feedback when we want to change something. There is a format to follow and we must constantly check in to see if the employee heard anything we had to say.
In many cases, you are correct. Some feedback takes time. Some feedback takes planning and preparation. These tend to be instances which are uncomfortable and involve some level of conflict – yet this type of feedback makes up a tiny portion of the time you spend giving feedback, and if it doesn't then it's beyond time to evaluate that.
How much time does it take to say:
Nice job on that proposal – we wowed the client with it.
Heard you on the phones just now – your objection handling was spot-on.
That work you did on the budget really impressed the management team, thanks!
Thanks for all the hard work you put in this week.
Truthfully, if you stop and notice the positive moments and then consistently acknowledge them you make giving and receiving all types of feedback much easier. You open up the door for friendly conversations, and you reassure people that you notice them doing their job – and rather than taking it for granted, you appreciate the effort they put in.
Challenge yourself to rethink feedback. Instead of being an event, make feedback a part of your routine. Whenever you stretch your legs, give someone some quick, positive feedback. Go ahead and schedule it on your calendar so it pops up. You will be amazed at how catching your team members doing something right two or three times a day completely changes your environment and your relationships at work.