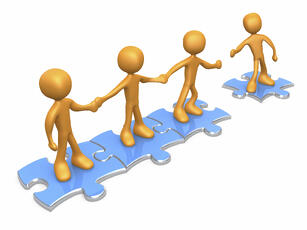 I recently met with a client's sales team and about half of the team shared, unsolicited, that sales comes down to relationship building. I agree with that comment but when I asked them a simple coaching question the room went silent!
"What have you done in the past 30 days that was "action-based" in regard to deepening and expanding a specific client relationship", I asked. NO ONE SAID A THING !!! Guess what its typical. Most of us think we have relationships we don't really have!
I then asked the group how many of you have sent a thank you card or something of interest to a client in past 30 days. One hand went up. Some of the team members had the classic audacity to say "We're really busy in our industry". Guess what we re all busy ... lame excuse in my estimation.
OK here comes the big slap in the face. I asked the team to close their eyes and to hear a story. I began to explain and illustrate a sales person in great theatrical detail who sent thank you cards, articles of interest specific to their clients, performed random acts of kindness, etc. Some of the team began to smirk or smile as they thought I was about to ask them wouldn't that be great if you did this. I did the opposite. I said I was just describing your competitor. Now how do you feel? The room of sales people looked shocked, concerned, and maybe even bewildered a little bit. The point is great sales professionals should build walls around their clients with GREAT relationship building that is "action-based" and it is the Sales Leader's duty to drive this !
Relationship Building Event That May Interest You:
https://relationshipsellingsystem.eventbrite.com/