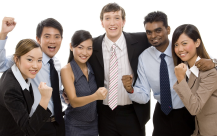 Organizations that adopt a coaching culture have a greater advantage in the workplace today than those who don't. Managers who really learn to coach their employees will help drive their performance by enhancing their skills, knowledge and behavior. There are so many fundamental reasons why organizations need to coach that it is astonishing to me that more organizations do not have formal coaching programs. However, if they knew all the benefits that a formal coaching program has to offer, they would be more inclined to consider implementing one. Here is a brief list of reasons why organizations should create a coaching culture:
Increases employee retention.
Allows a manager to get a close-up look at employee's work and solve real-world challenges.
Supports better succession planning due to talent growth.
Creates an organizational energy.
Builds coaches within all leadership circles. The more coaches an organization has the more "performance improving" employees they will have.
A successful business requires employees to constantly be getting better. Organizations who are not coaching do not have this competitive edge.
Employees who experience an increase in skills and overall work performance naturally become more open to change and challenges.
All of these reasons will help to increase a company's bottom line. If you want to stay ahead of the competition, then don't overlook the importance of adopting a coaching program.