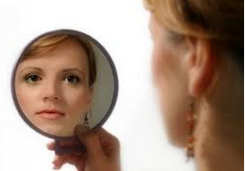 Reflection is a powerful coaching tool. The Reflective Coaching method gets someone to stop and look in the mirror or look into their past and think about what they have learned. It is especially effective for someone who has a negative attitude or to address sensitive topics. It forces the employee to find out what or where they need to make a change or improvement.
Reflective Coaching consists of three steps:
Identify a Performance Issue - What area or behavior do you want to change? This could be a negative or poor attitude, etc.
Learning Activity - Facilitate an activity that prompts the employee to learn about the issue, for example, reading an article, watching an inspirational video, observing another employee who is really positive, etc.
Reflective Activity

-After the activity is over, ask the employee "What did you learn about yourself that you would like to change as a result of this activity?" Reflection questions are designed to challenge the employee.
This reflective coaching method potentially gets the employee to own what they need to do as a result of what they learned from the activity and ultimately make the change or improvement. This approach not only gets the employee to commit to the behavioral change but absolves the manager from being viewed as "picking" on the employee which only fuels the employee challenge!