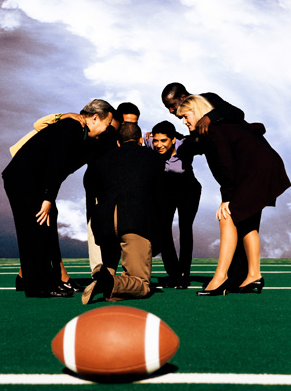 While watching the Super Bowl with the Seattle Seahawks dominating the Denver Broncos from the beginning, my daughter asked, "Is the Coach of the Broncos going to get fired?" I said "no, I don't think so because they had a good season and got to the Super Bowl." It did make me think though that coaches do get fired if their teams are not doing well and have losing seasons. Their team is a reflection of them as a coach and therefore they have to accept the blame for a losing team, as well as, praise for a winning team. The same can be said for a leader or manager of a company. If your team isn't performing well, are you at risk for losing your job? We can all hope that you won't lose your job over one bad quarter or as in sports, one bad game. However, it is your responsibility to help improve your team's performance and keep them motivated to see them and ultimately the company succeed. Still not convinced that managers need to coach their employees? Here are a few reasons to think about:
Challenge thought process

Inspire

Motivate

Leverage employee's strengths

Build performance

Have employee's OWN their challenges and need for improvement

And many more
Now you know some reasons why managers should coach their employees. Here are some ways to coach your employees:
Ask Questions
Reward effort with positive re
inforcement
Look for opportunities to recognize and reinforce good behavior
Facilitate "Improvement" Sessions
Engage with employees daily through talking, collaborating, asking questions, recognizing and rewarding efforts. Email is not a way to engage with employees, it is a non-verbal form of communication.
Coaching employees even when the results aren't present but they are showing good effort and dedicated willingness to get better will help build confidence and ultimately results will come. Just like a sports coach, if the athlete or team isn't doing well, the coach needs to build on what they are doing well and not on what they aren't doing. Recognizing and rewarding employees goes a long way. It opens the employee's minds on where they need to improve. Employees will shut down if we only focus on the things that employees are doing wrong or areas they need to improve.
As a manager or leader, it is important to make time for coaching. Set up weekly meetings with each employee to see how they are doing as well as making sure they are continuing to improve in their performance. During the meeting, discuss specific issues, challenges, problems and goals. You don't want to wait until an employee has a problem to talk to them because by then they have lost confidence and motivation. Make the effort to observe your employees in order to recognize and reward their progress or a specific challenge they overcame. If you want to become a great coach and have a winning team, then start inspiring, motivating and developing your employees through coaching.