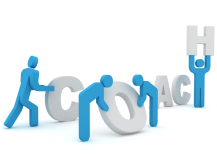 Look at your phone when they are talking!
Peak at that incoming email assuming they don't see you!
Don't schedule time consistently with your employees!
Look over their shoulder when someone walks by ... their trust builds in you as a leader if they are on medication!
Assume coaching is not your responsibility!
Tell them what they need to do and don't listen to them as this motivates all, yeah right!
It's the trainer's responsibility to train your employees (do they also do the end of the year review too?)
Why ask your employee's questions as any good coach would because your employees just love all your directives and advice anyways ... KEEP DREAMING!
Employees come to work with no goals of sharing or getting better or improving in anyway because they just cannot wait for your next words to come out of your mouth!
Oh The Insanity!
Ok, enough sarcasm but let me ask a manager who is like the attributes described above when the employee or employees quit does this manager share with HR it's their issue? Probably not, they will depict each employee in a negative manner to why it was good they left the organization. By the way the average cost of replacing an employee is about 25 - 35 % of their annual salary.
Please don't let managers like above tell you they don't have time to coach!