The Power of Supplemental Coaching & Self-Guided Learning
Have you ever wondered how you could take your career from Point A to B? Absorb the transformative knowledge that supplemental coaching provides.
We delve into the expansive world of self-guided learning using resources such as books, videos, and online courses, and we'll illustrate this with the example of Mark, a budding marketing and data analytics professional. From internal and external mentors to peer-to-peer coaching, you'll uncover a rich tapestry of techniques to supercharge your learning journey.
But that's not all! We emphasize the importance of asking the right questions and investing in personal growth. We explore the best data analytics resources available, and you'll be inspired to see how supplemental coaching can amplify your direct coaching efforts. With accountability and learning projects bridging the gap, you'll find that supplemental coaching is not just an add-on tool, but a key driver in your career progression.
So, gear up and join us on this insightful journey of learning and growth!
---
When using supplemental coaching as it relates to careers, it can be really simple. Some main options are hiring or finding a mentor internal to your company. Hire or find an external coach. For example, let's return to our character of Mark, who wants to go into marketing and data analytics. Another option is to find someone in that position who could become their peer-to-peer coach.
The other thing supplemental coaching accomplishes is that it doesn't take you any in-person time as the coach. Reading books, watching videos, and taking courses are all things people can do on their own will. Here's the really cool part: these also ascertain whether they are really willing to go above and beyond the call of duty to take their career from Point A to B.
Supplemental coaching contains things like watching videos, observing others, interviewing people in those positions, getting a peer-to-peer coaching relationship, or a mentor, somebody already in that position, or doing the ideal state that somebody wants to do.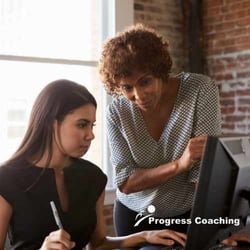 Think about your direct coaching: the questions you need to ask, the learning project for accountability that bridges the conversations together, and then how to supplement that.
In our example, if Mark wants to go into data analytics, is there a book out there relevant to that? Is there a series of videos he could watch? Are there courses he could take?
When you invest in people, and then you put a book on their desk or you send them a video, what you're doing as a coach is sending them a message that you've got their back. That you're going to go to the next level and you'll help them get there.
Supplemental coaching supplements your direct coaching in an extremely powerful way.
Supplemental Coaching Ideas
Observing others.

Journaling observations.

Reading books on relevant topics.

Watching videos on relevant topics.

Journaling what you've learned after reading books and watching videos.

Peer-to-peer mentoring.
---
If you are looking for a way to strengthen your organization, ask about our Coaching Champion Certification program, where we take everyday employees and use everyday conversations to strengthen the organization's culture. Coaching Champions inspire and motivate others and professionally challenge those who struggle with positivity.
Get More info Here: click here