Personal Journeys and Professional Advancement
Did you know that owning up to our shortcomings is crucial for self-awareness and can dramatically boost our personal and professional skills?
I (your host) embarked on an introspective journey, spurred by my alarmingly low empathy score, and today, I'll share this transformative experience with you. We'll discuss how self-awareness is key to improving conversation skills, public speaking, selling skills, and customer service. I open up about my personal struggles with empathy, the lessons learned during the pandemic, and the positive changes self-awareness engendered in my work culture.
But it doesn't stop there! I also provide some practical strategies for you, including a 90-Day Listening Chat Challenge and tips on effective journaling.
Brace yourself for an engaging conversation about self-awareness, empathy, and emotional intelligence, and walk away with proven tips and strategies to better understand yourself and improve your personal and professional life.
---
When it comes to self-awareness, one of the toughest things we all go through is looking in the mirror and honestly going through the process of self-discovery.
I'll share a personal story that was difficult for me on this path of self-awareness. Four or five years ago, I became certified in emotional intelligence. The coach asked me what I thought my lowest score was. I replied empathy. I was right. I had always thought that was just my personality, but it's not.
Emotional intelligence can be improved, much like self-awareness. To improve anything, whether it's conversation skills, public speaking, selling skills, or customer service skills, improvement starts with self-awareness. One of the toughest things that happens is in the sales world. When sales are up, sales folks think, "Look at me, I'm fantastic." When sales are down, "Wow, the market went south." The funny thing about it is most people don't typically look in the mirror and say, "I didn't have a good selling season because I didn't handle objections well or I didn't negotiate well." That would be a healthy, self-awareness-driven answer.
Self-awareness requires practice. So I started to take action. The coach asked me do I ever ask how other people feel? I said no, why?
I literally was that shut off from empathy. It's tough for me because, since the age of 14, I've been mostly on my own. I didn't get a lot of money from my parents, and I paid for my own college. I've always just worked through things. Even today, when people say they're struggling with mental health or anxiety, I struggle with that. I know those are real things. I'm not putting those down, so don't write me. But I didn't have that cushion to say I couldn't work because I was on my own. It's always taught me a really good thing. Yet it manifested itself in not such a great way, not being empathetic. When the pandemic hit, thank goodness I was working with my coach because several people I worked with were really struggling, legitimately struggling with mental health and anxiety issues. I kept saying take the day off, catch up with your hours. I would never have done that beforehand.
In the last two years, we've given our people--employees and contractors--most of the month of December and the first week in January off. Almost a full month off, with pay, so they can enjoy their families and their holiday. I would never have done that before. Then they always ask me if I'm going to work during that timeframe. Of course, I'm going to work. I like working, and I like what I do. This is not a torturous job; it's fun for me.
Self-awareness takes action. Where can somebody start? What are some activities?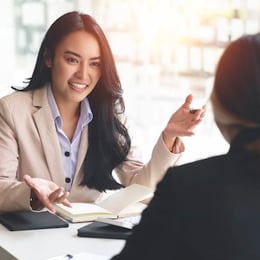 Listening chats.
Ask people twice a week for the next 90 days--it'll take 10 minutes every two weeks, 20 minutes total monthly:
What can I do to better serve you?

What can I do better as a teammate?

What are some things you feel like I do really well?
There's 1 rule for listening chats: Just say, "Thank you." You're not allowed to say anything else.
Most of the time, when we hear things, we rebuttal them. We start thinking about what we want to say. The rule of engagement is to write them down and just say thank you. I've had more people come to me after doing that activity and literally say at first they hated it. Weeks later, they share with me that they're learning so much about what people need from them.
Let's be honest, when we get into a conversation, we're running hard, we have meetings, we have reports, and we need to finish projects we're not thinking about. We need to get into a listening state of mind, and we cut ourselves off from self-awareness.
When I did the listening chat, people told me to slow down. If you listen to my podcasts, you probably hear it: I talk fast. I think fast, and people say that must be wonderful, I'm so good on my feet. But communication-wise, I can create heartache for people because I talk too fast.
After the listening chat, there's another activity you can do to work on self-awareness: Journal.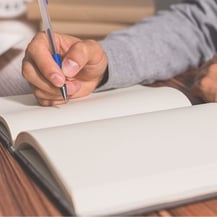 Guys typically don't like to hear the word journal because their instinct is that they don't want to have a diary. But a journal is to write down observations of other people in terms of what they do really well. That might equate to something that you have to do.
A couple of years ago, I coached someone who wasn't confident in running meetings. We identified someone who does run a good meeting, and we had her journal every single time she attended one of this man's meetings. She wrote down what he did really well, what he looked like, the kind of language he used. By doing this, she was actually writing her own curriculum, her own training guide for personal development, and an outline of what she needed to do within a year just from the observations. She also met with this person and asked how he got to this point. What did he do to practice this? How did he become so good and confident in running staff meetings?
She became unbelievably good at running meetings. Writing down observations of other things and people will fuel your mind in a positive direction.
To summarize, two activities you can do to increase self-awareness are:
Listening chats.

Journal.
And those are the two main activities to drive self-awareness.
---
If you are looking for a way to strengthen your organization, ask about our Coaching Champion Certification program, where we take everyday employees and use everyday conversations to strengthen the organization's culture. Coaching Champions inspire and motivate others and professionally challenge those who struggle with positivity.
Get More Info Here: click here