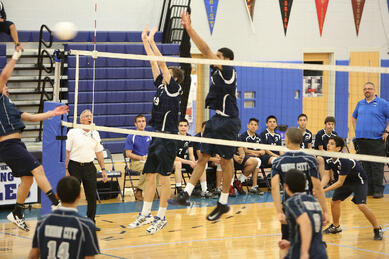 I am now coaching the boy's volleyball team for varsity at my son's high school. This is the son who is mentioned in our course that many clients always ask about as the story in our course really resonated with some people. Yes, my male ego tells me I can still do it and my cellulite tells me I am cramping ... oh what a conflict to manage. I share this as I give to my clients by teaching them how to coach I find myself practicing what I preach but not sure if I have always done that. On my business card it saids "If you invest in others they will invest in myself". I think I am doing ok ... here's why:
No parent complaints after tryouts: 16 kids were cut (we created a development team)
Of the 16 cut 3 asked to be managers to stay with the team.
Two kids cut are also helping out who are new to the school district as a way of meeting new friends- a true negative into a great positive.
One kid cut wrote me a letter saying he loved the sport and it was his senior year and he would do anything I asked and expected NO PLAYING time (seriously). He's now on the team and a great kid!
One senior had the whole team to his house after the 2nd day of practice - the whole team and many of these kids did not know each other. Three parents called me and said "Wow, there's already team bonding going on". The senior is a great kid and someone who will only have one year in this program's inaugural year so I have to create a great experience for this kid on and off the court.
I have emailed every parent one to two positive things about their kids ... invest in the good things and they'll open their minds to where they can improve.
Last, always humor. First day one kid came up to me, punched me in my good arm (I have 3 major tears in my right shoulder's Rotator muscle from years of playing volleyball) and said "My Hagen at least you are losing weight"., as I was sweating my fat butt off. Now I've coached this kid for years in basketball so needless to say he's comfortable with me. Kid next to him said "Are we allowed to say stuff like that" and the kid who said it and I just started laughing.
Its okay to laugh at yourself and be the butt of jokes because laughter is a great dose of medicine for a team that quite frankly is not going to be that good right now. I want my kids to feel they can see anything as long as the team is never put in a bad position. In one week friendships have been formed, new kids to the district have accelerated their experience from scared to I m going to friday's football game with a couple of guys, to parents sending back emails "thanks for all you are doing for my son".
Long way to go but loving it. What I have is now putting and taking off clothes is painful. I can barely lift my right arm and its my eating arm so losing weight may not even be an option. I d take a whirlpool bath ... if I could just get out of the damn thing. All in all, kids will have a great experience, community is being educated on what I believe is a true team sport, and at the end I may be able to cancel my Jenny Craig membership.