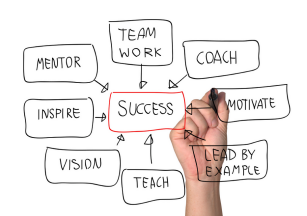 Recently, I was a guest on a radio show and that was the host's first question. I was surprised by my answer, at first, because it came to me so quickly, but was also a great teaching tool for me to reflect and appreciate my career. My answer was in direct regard to my college internship at IBM. I still remember the days I was in my boss, Martha Sheffield's office. I also remember my sit down meetings with Jerry Vite who was the branch director. Over 25 years ago, I was hired at IBM as a college intern. You needed a 3.8 grade point average to even qualify for the program, yet due to some extremely fun and obnoxious times my grade point was only a 2.1. It's okay to laugh at me as my family really rejoiced in such an activity way back when. My grade point was actually up for my first two years of college when I actually flunked out. You could say I definitely had some people in my corner as I knew many of the IBM executives from working at the YMCA in the same office building. Talk about people pulling strings, huh?
My first two weeks on the job were needless to say overwhelming. I had no clue what anyone was talking about. I had never even turned on a computer. After two weeks, I began to think to myself that I may have made the biggest mistake of my life as I left a job in a career I truly enjoyed and was extremely knowledgeable in. Technology and computers never really excited me. As time went on, I began to realize I was in way over my head. One day, a fellow college intern was teaching me how to set up a projection unit to a large screen device. He began to explain the electrical frequency and throughput of RGB cables and that it was important that I connected them properly. It took me weeks to learn that I still could not connect the cables correctly. I had had enough. I went to my boss Martha and told her I was going to go back to the YMCA where I felt much more comfortable.
This was the moment that coaching not only changed my life but my perspective on the value of feedback and leadership. She got up and closed the door behind me and walked back to her desk and said the following, "Don't give up as I took a chance on you because you are a fighter." I will never forget those words because I realized my decision did not affect myself alone, rather other people who took a chance on me. I told her I had no idea what anyone was talking about. She then hooked me up with Roberto Garcia who more or less became my mentor and dare I say 25 years later my peer-based coach. The first 15 minutes with Roberto not only invigorated me but also angered me. He asked me when we began hooking up another computer system to a large-screen projection device, "Do you know what RGB stands for?" I said no. He said, "It stands for red, green, blue just simply match up the colors to the colors on the wall. I began to laugh, but also wanted to go back to all the other college interns who are talking in technical terms for no apparent good reason and beat the heck out of them even though they were all my friends. I went back to Martha to share the experience and she said, "Tim, you will always have someone smarter than you but it's the people who work hard, take chances, learn things on their own, that truly excel." I think you are that person.
Needless to say after 2 ½ years at IBM I realized I not only took Martha's feedback to heart, but actually put it into practice. I was teaching over 10 different courses, three of which I actually created on my own. I literally was coached by Martha almost on a daily if not twice- daily basis. I learned all the IBM printers on my own; therefore, I quickly created a reputation of being a printer expert. All of this simply got me out of the grunt work into more training and presentation-type work which I still do 25 years later today.
Moving forward, I've had my own company for the past 22+ years. In deep appreciation to my bosses and all the people that helped me at IBM, I still have a high school and/or college intern every single year. Recently, I had lunch with Shannon who I would say is probably the best intern I've ever had as well as employee. Today, we still get together after she worked for me for three years to discuss both of our industries. She now travels the world providing organizations with social community software development and support services for a great company, 7Summits. The owner, Paul, who is a good friend continues to share with me how much she learns on her own and contributes to the bottom line of the organization. I'm not sure if I've ever paid back my friends and bosses at IBM, but I can honestly say I think my effort to do so has been genuine and sincere.
Today, I get to teach managers and leaders how to coach while I continue to grow myself as a coach. I have recently taken on the head coaching position for boy's volleyball at my son's high school in Cedarburg. I feel reenergized by this as I feel I can contribute to kids on and off the court. Again, going back to the host question, I realized 25 years later my coaching career continues to evolve, grow, and hopefully make an impact on other people. The lesson … Coaches Coach and get Coached!