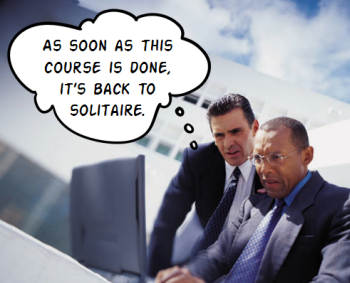 Are your employees good learners? Recently, I attended three different meetings/training workshops at three different companies. All three were fascinating to sit in and actually be a fly on the wall for once. What was interesting was in all three meetings that were comprised of executives to middle-management and a few employees there were the following attributes that were clearly visible:
Repeated use of people peeking at their cell phone.
Asking questions that were off-topic.
Lack of engagement when the topic did not seem to resonate with certain people in the room.
Interestingly, all three companies had at least one person who walked out of the room who represented poor learning attributes, yet felt compelled to complain about the training in some fashion within 15 feet of actually leaving the room.
It really got me thinking back to my college days at the University of Wisconsin-Milwaukee. I took a course in educational psychology that talked a lot about how people learn, how people should take notes, and overall learning strategies. Somewhere in the corporate world this has become a lost art. For example, if we have someone who's not attentive with a poor attitude towards any subject matter, are we really holding the manager or trainer one hundred percent accountable for that person's absorption of the content or knowledge? I am wondering if we need to teach adults how to learn, as well as their roles and responsibility as a learner?
What are your thoughts?