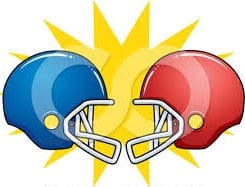 As we approach the Denver Broncos and Seattle Seahawks facing off in the Super Bowl, one of the major facets of the game is the quarterback battle - newcomer Russell Wilson vs veteran Peyton Manning.
There are some similarities between the quarterbacks. Both are relatively soft-spoken. Both had quarterback ratings over 100 this season. Their completion percentages are similar.
There are also glaring differences. Manning has been around for 16 seasons and Wilson only 2. Manning threw for 2,000+ yards more than Wilson this season and twice as many touchdowns (55 vs 26). On the other hand, Wilson rushed for nearly as many yards this season as Manning has in his entire career.
Considering these differences, if we put these Super Bowl quarterbacks together in a peer-to-peer coaching situation, could there be any commonality? Any way they might connect? DEFINITELY!!!!
Often if you pair two people where one has a strength and the other a weakness, you'll begin to see both people improve, and your team's performance will begin to rise.
Although the quarterback's strengths and weaknesses may or may not be glaring ones, there are differences. In a situation where Wilson may throw an unwise pass based on arm strength alone, Manning may throw the ball away, preventing a possible interception. Conversely, Wilson may utilize his running skills in that situation to gain some yards, whereas Manning throwing the ball away gives up an opportunity for the Broncos. Yet in the end, this year both have the same opportunity to win the NFL's biggest prize.
How we can utilize this data from a coaching standpoint is to realize that having two people work together can benefit both. Traditional thought would have a manager pairing a veteran employee possessing the talents the new person needs with the less-experienced person. If it's a sales team, allow the new person to ride along with the veteran to see how they sell. If they're on the road, it also allows the new person to pick the brain of the veteran between calls.
The flip side is that the veteran can take things the new person may have just learned in college and benefit from that. The veteran may still store prospecting information on paper whereas the new person is utilizing a CRM on an iPad. Both may work, but it's much easier to send information to a home office electronically than calling it in and hoping it's put into a database correctly.
Ultimately, if the skills we want to have shared exist, regardless of what seems like a pairing of people with little in common, peer-to-peer coaching can work. New skills can bridge the barriers that may exist and your organization will flourish.