Price objections can result in a very sticky situation for sales people. As a manager do you know what your salespeople are going to do when they get in that situation? As a salesperson do you know what your manager wants of you when you encounter a price objection? This is why managers need to coach.
According to Tom Reilly, who conducted a web cast on handling price objections. Some statistics that Reilly uncovered are that 18% of sales are closed without discounting the price. That leaves the other 78% of sales that are cut-back. Imagine if you coached your employees to deal with price objections. Maybe that 18% might be increased to 40%; that would increase sales considerably. A great way to coach your employees is to participate in a role-play, so when they encounter one of these situations they have practiced and they know exactly how to execute.
CSO Insights provides the selling industry's most valuable data in terms of trends. Below is a graph showing how reps rate themselves in regard to selling value and avoiding discounting: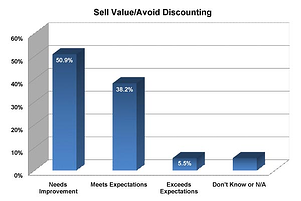 50% admitted to needing improvement in this area. If 50% of the sales staff is discounting versus selling value, imagine the impact on the bottom line if those reps were given the proper tools to succeed.
To learn more about overcoming price objections, attend our Webinar on April 26th: Closing the Sale in 5 Easy Steps
This Webinar will talk about. . .
Learn how questioning is the key to closing

Learn why you should never have to ask for th

e order

3 CREATIVE relationship building strategies guaranteed to give you the winner's edge in any deal!


Learn how to handle and successfully address objections early in the process

Learn a great closing strategy and technique without coming off aggressive

Learn the #1 thing customers want to do today more than ever when it comes to doing business with an organization

And Much More
Download our Whitepaper: How to Overcome Price Objections