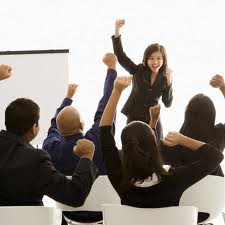 One of the best things that we can do is to challenge and keep our sales teams constantly learning. It is imperative that sales leaders facilitate a structured and well-balanced approach to their sales people learning new skills as well as trends in the selling profession. We continue to see statistics and research that clearly shows sales teams have a huge opportunity to improve. Sales leaders cannot simply manage numbers and their staff in direct correlation only with the numbers. Here are six ways you can help your sales team to consistently learn and apply what they learn:
Article of the week – have staff read articles and write on the back what they learned and what they are committed to applying.
Bi-weekly best practice session – present a case study and have people practice / discuss in groups of two or three.
Sales Book-of-the-Month – have each chapter due at the end of the month and structure group dialogue sessions with each person sharing what they learned and more importantly what they have successfully applied.
Scheduled practice sessions – schedule sessions with staff filling out score sheets to ensure total participation and accountability.
One and one teach back sessions – focus your efforts as a sales leader on one or two people.
Structured Q&A sessions with internal product/service experts – have sales team members email or journal questions they have each week and provide bi-weekly "Ask the Expert" sessions"
What do you do to challenge your sales people to consistently apply some of their time to learning & growing? Add it to this blog entry
Cliick on image below for free white paper on Why Sales Teams Need Sales Coaching: