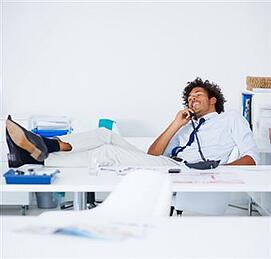 As visit with clients, a common theme emerges. Many leaders are concerned about the number of experienced sales professionals that will be retiring over the next 5 years, a reality that is coming as Baby Boomers continue to retire. What about the young sales people who are too relaxed about their sales careers?
There is a great shift occurring in the workplace. By the year 2020, 50% of the workforce will be made up of Millennials; these workers today are in their early 20's to mid 30's. Organizations will need these young professionals to step into leadership roles.
So what are you doing to ensure that you are addressing your bench strength in your sales department today?
Are you diversifying and bringing in younger professionals to start learning and working side by side with your tenured and skilled employees?
Group coaching sessions are a great way to begin that transition.
Schedule a 30 - 60 minute session one or twice per month.
Break your people into teams of 3 or 4 and give them a problem to solve.
You can also ask the salespeople to come up with a list of problems and then pick one of those scenarios at each session.
Make sure the teams are composed of varying levels of experience.
Have the teams work together to solve the issue, practice a role play, teach a product or process back to each other, or any other learning experience your team comes up with.
The key is regularly scheduled practice sessions! Reward Efforts All Along The Way ! Have Fun ! Reward Progress ! Results Are Just Around The Corner!