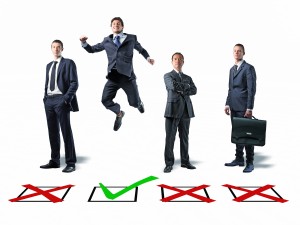 Experience-based coaching is when a coach or leader facilitates an experience and applies sound coaching principles to the functional change being desired for example you could have a team of people complete an obstacle course together and then ask them to identify who the best teammates and most helpful during the course? Experiences are very powerful as it's often been said they shape us but all too often we wait for experiences and don't facilitate them. Let me give you a brief example. At one of our recent client meetings we were coaching employees to facilitate a great client experience. We had each person visit their favorite restaurant establishment for socializing and come back with one observation they observed that was positive. The next task was to come up with an idea of how that observation or what they observed that was successful could be applied to their business. Many thought that this was a very far-reaching or even dumb task when in fact the results were extremely interesting. The group came up with two or three extremely creative ideas as a result of sharing from all of their experiences but we noticed the huge uptick in attitude and dedication to each and every client experience. We never once asked them to increase their energy or association with clients. Nevertheless, it became a result without having to ask. We believe the experience did much of the coaching for us. We also believe by structuring what to look for in using the experiences of coaching moment it became more powerful than us just telling them to do it.
One of my favorite stories to share is actually from our progress coaching training course. Years ago when I was coaching my son Liam and basketball he had an experience that really defined his future as an athlete as well as his association with getting better. In a packed gym when the kids were only in fourth and fifth grade he came down the court down by one point and missed the last second shot the ball went in the hoop and popped out. He was needless to say devastated and humbled by the experience as people were screaming and cheering during the game. This is a big stage for anyone more or less a fourth or fifth grader. I ran over to him and said that was awesome and he responded dad I missed the shot. I said look you're going to miss a lot of shots but the key question is are you willing to take the next shot? I then began to share with him how his teammates were extremely nervous to even consider taking the shot so he showed great courage . He began to smile a little bit as I started to get him to associate with that experience from a much more positive perspective versus him solely missing the shot. Years later on a traveling team he went on a shooting spree where he literally had four to five-game winners literally at the buzzer. People would come up to me and rave about his shooting ability and would ask me how did I get him to be such a confident shooter and stressful times? I replied I reward him as much as when he misses as much as when he makes it. And I simply walk away. All too often we use results as a guideline as an instrument to interact with people when in fact the experience itself void of success or lack thereof can be extremely powerful if we learn from it. That is a coach's responsibility!
Subscibre To Our Newsletter (We are going to be launching monthly coaching contests next month for the best coaching solution: click here
BECOME A NATIONAL PROGRESS TRAINER COACH WITH TRAINING MAGAZNE: CLICK HERE
Tim Hagen: Founder & Creator of The Progress Coaching Training System
"We help companies build Coaching Cultures. One of the things we are see as a huge opportunity for training leaders and their staffs is to embrace coaching as a support tool for their training. This allows them to deliver coaching, design coaching for managers, partner in coaching, and train on coaching. Last, coaching is the new training and will expand careers!