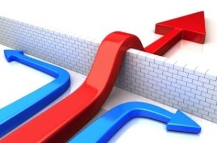 Below are three top sales objections along with strategies to overcome them and improve your sales skills.
Your competitor's pricing is better than yours.
Make sure you are asking enough questions to get a good look at their buying criteria. You don't have to lower your price if you can prove your product will better fit their needs. Also look to other selling points such as better customer service that can make your product more appealing.
By asking more questions to better align your product with their needs you can make the sale without discounting, which is your opportunity over your competition.
Your competitors have a strong existing relationship.
Establish with this new prospect that you are not looking to replace but rather complement what they are already doing with your competitor. This will put them at ease with you, and help you get your foot in the door with a smaller sale. Then use that opportunity to really wow them, in the future they may decide to switch entirely.
Whether you initially get in the door or not, begin building a relationship by helping them and asking for nothing in return. Forward them a free lead or an article relevant to their industry. These self-less acts take just a few minutes of your time and by asking for nothing in return you begin to develop a relationship.
Your competitor's product is better than yours.
Again ask a lot of open ended questions, and find out more information about their needs. Are they paying for features or services from your competitor that they don't need? Your competitors product may be better, but show your prospect that your product is all they need and you could convince them to switch over.
To learn more about overcoming objections, attend our Webinar on April 26th: Closing the Sale in 5 Easy Steps
Learn how questioning is the key to closing

Learn why you should never have to ask for th

e order

3 CREATIVE relationship building strategies guaranteed to give you the winner's edge in any deal!


Learn how to handle and successfully address objections early in the process

Learn a great closing strategy and technique without coming off aggressive

Learn the #1 thing customers want to do today more than ever when it comes to doing business with an organization

And Much More
Download this FREE Whitepaper: Create a Go-To Performance Strategy-