"Hello, this is Sales Progress. How can I help you?"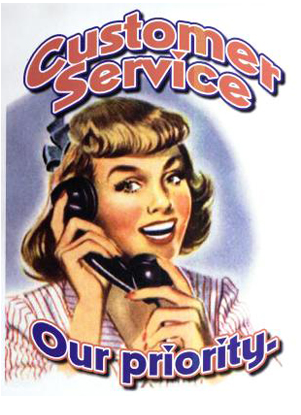 "Is Tim there?"
"He's not."
"Um…well can I leave a message or a voicemail."
"I guess. Hold on, I'll transfer you."

"Good Morning, thank you for calling Sales Progress. How can I help you?"
"Is Tim there?"
"May I ask who's calling?"
"Sure, this is Bob."
"Oh hi Bob! How are things going? Tim actually is not here right now, but I'd be happy to take a message or direct you to his voicemail."
"Things are going well, and that would be great thanks."
"No problem, and I'll let him know that you called as soon as he gets back. Hold on one second while I transfer you, and have a fantastic day Bob!"

Now, which conversation would you like to have? The second one is definitely more engaging and more upbeat. Customer service is a big part of people's perception of a company. If you continuously call into a place that greets you with no emotion and a lack of respect, it is not likely that you will hang up feeling great about giving them your business. The result of a negative experience can be even more detrimental to a company. What are people most likely to do after they feel they've been mistreated? Complain to others about it, and now, in a technological age, complaints are not just told to close friends. They can be tweeted, blogged about or posted to a company's Facebook. The fact is a negative interaction can reach hundreds of people in a matter of seconds.

For companies, it is extremely important that they take matters into their own hands. Customer service reps should receive sales training. Consumers are calling them with problems or concerns. This leaves room for a variety of activities such as selling, recommending and fixing. Customer service people should also be taught how to focus on having a positive attitude even if they aren't having the best of days.

Customer service reps are crucial to the success of any business. Download this free whitepaper to learn the 7 pillars of customer service. If you truly focus on improving your interactions with your target audience then you will begin to see your sales progress.