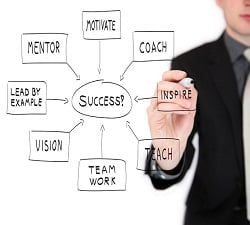 After a long weekend, most people find it a struggle to get back into the work grind. The same can be said about training. Weeks after a seminar or workshop, employees find it difficult to change their day-to-day work. So, managers need to put training reinforcement and coaching into place. The two methods are different, but both employ the same types of techniques.
Training reinforcement involves practice. Managers can use techniques such as group, one-on-one, peer-to-peer and self-directed practice. During each session, sales reps should be asked to demonstrate something that they have learned. They can involve themselves in role-playing and "teach-the-teacher", which asks the rep to show how to use a product or demonstrate how they would leave a voice mail. The most important part of training reinforcement is the continuation of learning. Employees need to be improving their skills, and this can only be done with reinforcement.
Coaching, on the other hand, focuses more on measuring improvement. When managers meet one-on-one with their employees, they should be marking down where they see improvements, and where they see a need for change. They can use the teach-the-teacher method to see how well employees comprehend what they are learning. They can also use the self-directed learning technique. Each week managers can ask their employees to write down three ways that they used seminar training throughout their workday; then, they will see that their sales rep is actually improving.
Training reinforcement and coaching are two techniques that managers can use to help their sales reps enhance their performance.
Download our
Free Whitepaper
About The 7 Ways to Start Sales Coaching: