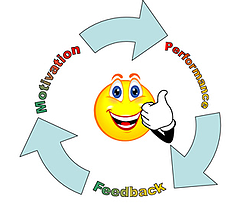 Feedback is a powerful tool that managers should use when coaching their employees. Yet it isn't used enough and the majority of managers don't actually know how to provide feedback appropriately. Managers don't know how to coach using feedback and find themselves telling their employees they need to improve in certain areas. Ultimately, the goal is to see improvement in their performance which is not likely to happen when managers are telling them how they should improve instead of coaching them. Coaching involves asking questions to assess what area(s) the employee needs help in, how to help and the best methods to use.
Feedback is a valuable tool that provides information to help employees become more productive in the workplace. When carried out effectively, feedback does the following:
Helps improve communication between managers and employees
Helps improve job performance
Helps improve productivity
Motivates and energizes employees
The perception is that feedback is only used if you want to correct negative behavior, but it is just as important to provide feedback to recognize and acknowledge good performance and positive things.
Here are some tips to keep in mind when providing feedback:
Communicate with Respect: Use words that will help make the employee feel good.
Don't Criticize: When providing negative feedback, make sure to describe their actions or behavior that needs improvement rather than criticizing their personality.
Be Specific: Use examples of observations you've made and suggestions for improvement.
Don't Wait: Feedback is most effective when given out soon after you've observed the situation or behavior. However, take some time to prepare what you want to discuss.
Give Often: Feedback should not be given out only at review time. It has the most impact when done on a regular basis for continued progress and success.