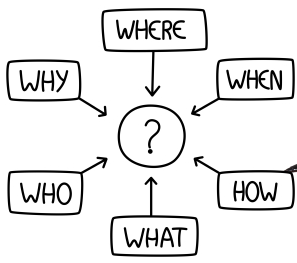 At some point or another, I am sure that you have encountered an annoying salesperson. You know the one that simply never stops talking and continues to tell you about the benefits of the product or service and never even asks what you as the buyer wants or needs. Typically, they don't ask any questions and as a result, you have a frustrated prospect. This frustration means that they probably do not have a good impression of you or your company. There are two very simple things that can be done to address this situation; asking questions and listening effectively.
Asking good open-ended questions is essential because you want to keep the client talking and learn as much as you can about them. Your objective on an initial call should be to find out what they are currently doing, what they like about what they are doing, and what would they improve. Some ways to encourage the prospect to continue talking would be to use phrases such as what else, name another, how, why, be more specific, could you elaborate, and what do you mean. These phrases will allow you to get more specific information rather than vague responses.
The goal should be for each question to generate three pieces of information that allow you to move to the next step. Prior to that first face to face meeting, you want to find out some of the challenges so that your initial meeting allows you to confirm their biggest challenges and what some potential solutions might be. This will allow you, the salesperson, to move the process forward.
After you've asked the correct questions, it is important to show you have been actively listening and restate what you have learned to clarify that you have it right. You can do this by restating two or three of the most vital things you learned from your conversation with the prospect. I also suggest taking notes during your conversation as this will force you to listen well and show the prospect that you care enough to write down everything they are saying. After you've gained agreement, go ahead and come up with a solution by using the phrase, "What if we… were to put together a document outlining what we've discussed today and schedule a time to get back together to confirm what might be some possible solutions." By using the statement, "What if we…." means you aren't assuming anything and you are including the prospect in the decision making process. In addition, this allows for a smooth transition in the sales process as they are basically selling themselves.
The art of asking good questions is essential to increasing sales and achieving total customer satisfaction. They are more likely to return to a salesperson that is able to effectively identify their needs and offer solutions that solve their problem. Asking the right questions is not only good sales, but outstanding customer service as well. Good questioning and good listening skills should be practiced every day especially in sales. If you want to close more deals, simply ask and listen.