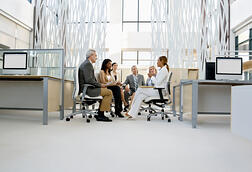 Workshops and seminars are a great way to instigate new techniques or to train employees about a product. They provide helpful tools and tips to improve sales, and they give representatives real world applications that are geared towards the bottom-line. After most workshops, employees return to the office re-focused and ready to make an impact; however, a couple months down the road those tips are long forgotten, and people have regressed back into their old habits.
In order to avoid this regression, managers need to step in and play an active role in the continuous learning of their employees. It is through leadership and constant coaching that workshops truly become effective. Coaching is not an easy task, though. It is not the same as managing, and oftentimes, managers are not prepared to coach their employees to success. Training reinforcement can be carried out through multiple different steps. One post-workshop method that managers can institute is group-coaching sessions.
Group Coaching Sessions
Training reinforcement can help employees practice and improve in areas that they have problems with, such as cold-calling and prospecting, and group sessions give them an opportunity to work with others to fix any setbacks. When leading a group session, managers should make sure that practicing and role-playing are almost always implemented. By actively playing out real-world situations, sales people and customer service reps can get a feel for how to perform in front of customers. Having a group of peers around can encourage as well as inspire the actions that a person would take during an interaction with a client. Group sessions encourage employees to listen to what others have learned, and in turn, they may pick up or adopt successful tools that other employees use.
To find out how to get a coaching program started at your company download our whitepaper "How to Start a Viral Coaching Program at Your Organization":