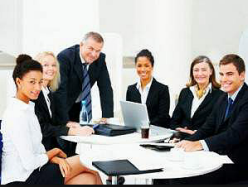 We often talk about creating and sustaining a coaching culture, but what is a coaching culture? A coaching culture doesn't have one concrete definition and it can take on many different faces. There are, however, specific attributes that an organization needs to possess in order to have a true coaching culture versus just a coaching initiative.
Consistency- Management is using the same methods and techniques throughout the entire company to consistently drive performance.
Discussion- Managers openly talk about performance issues and techniques to drive performance across departmental lines.
Personal Development- Employees feel challenged and inspired for personal and career growth while continually helping increase the organization's bottom line.
Performance Development- The organization has embraced a specific theme for performance development.
Coaching- Coaching is seen as a unique opportunity for the employee to improve and not just a task that needs to be done.
Improvement- Managers value coaching, but also admit their need to continually improve.
Real World - All coaching and training leverages "real world" issues and solutions.
Supporting and Sustaining a Coaching Culture
Building a coaching culture takes time and a collaborative effort from many people throughout an organization. When this coaching effort is backed by a strong organizational structure, the result is the creation of a unified coaching culture.
Here are a few tips about sustaining a coaching culture:
Conduct a best practice session to learn and share with each other coaching tips and procedures that have proven to be successful.

Conduct regularly scheduled practice sessions that incorporate role-play scenarios and case studies to boost coaching skills.

Develop management coaching commitment plans that will paint a very detailed picture of all future coaching strategies.

Obtain executive level commitment to demonstrate a unified coaching movement from all leaders.
Join Author and Culture Guru, Lizz Pellet for the Cultural Fit Factor Webinar Series: How to Attract, Retain and Repel the Right Employee to Increase the ROI of Talent Acquisition (Three part series) beginning on Tuesday, September 9 at 11am PST/1 pm CST / 2pm EST
Click on link below for more information and to register:
Webinar Series: The Cultural Fit Factor