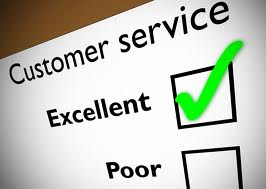 Experiences. They are what drive customers to continue using a company's products and services, and they shape our consumer's thoughts and beliefs about a company as a whole. These days, people are using the World Wide Web to voice their opinions, and they are being heard:
"Some 70% of Americans say they consult product reviews or consumer ratings before making a purchase, according to an October 2008 survey by Penn, Schoen & Berland Associates, a research and consulting firm." (Business Week, October 2009)
With a majority of consumers using the internet to conduct research for their product needs, it is important that negative reviews are few and far between, and there is one way to make sure that recommendations remain positive-great employee attitudes.
Employee interactions are extremely vital to building a positive customer experience. What type of salesperson would you rather have? An outgoing, friendly employee that is willing to help you out or one that sulks and does the bare minimum not making you feel at all welcome?
When managers notice that an employee is negatively affecting sales, they need to step in. One-on-one sessions are effective for gaining insight into the real issue at hand. Draw up scenarios that will help you understand the problem. Ask them how they would handle a particular situation. You may find out that the employee is frustrated from a lack of sales or that they feel uncomfortable with cold-calling. Improving employee attitudes is one way to see your sales progress.
To learn more about pleasing your customer, attend our Webinar: Closing the Sale in 5 Easy Steps. This Webinar will talk about. . .
Learn how questioning is the key to closing

Learn why you should never have to ask for th

e order

3 CREATIVE relationship building strategies guaranteed to give you the winner's edge in any deal!


Learn how to handle and successfully address objections early in the process

Learn a great closing strategy and technique without coming off aggressive

Learn the #1 thing customers want to do today more than ever when it comes to doing business with an organization

And Much More