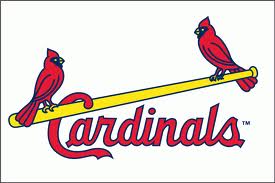 I don't hate the cardinals, I hate the Chicago Cubs. I am an avid Milwaukee Brewer fan, but you have to sometimes sit back and marvel at what others do. After seeing the game last night in which the Cardinals clinched a 4th birth in the World Series in last 10 years it hit me this is not only a great organization with great fans, but an organization who quietly and subtly applies the coaching principles that are needed in the business world. What a wonderful parallel!
First what does every successful team or business department have? First, they need a leader who can guide the team, show toughness, and support team members when success is not always being realized. Second, a team usually is comprised of youth, veterans, and everything in between that typically makes up a team. The challenge with teams is always getting various demographics to work well together and support one another. Third, most teams have aging veterans who people either rely on or ones that are near the end we tend to ignore. But here is the real opportunity getting aging veterans to feel appreciated by challenging them and not providing preferential treatment. Think about the old sales veteran whose sales manager always said "Well, that's Bob and I don t like to challenge him too much because he's near retirement anyway" … what a horrible message to send to the veteran and the team! Fourth, believe in the youth. Young people are amazing if we give them a chance and yes, Let Them Fail! Youth have no fear, but it takes one management swing of the bat to ruin a young employee. I remember years ago being in a meeting when I was doing sales training and an aggressive sales manager called out a young sales person about his lacking sales. The kid looked mortified. I asked the manager how long that rep had been with him and he said 6 months. I must have given him a look of astonishment because the manager looked at my reaction and said "Wow, I shouldn't have done that". Last, every team needs supportive players. Players that cheer and feel good about the team even when they are not playing help build winning traditions. God I wish parents with kids in youth sports would teach that because we all too often think of "I" and not the team. Think about it we have parents who literally will go to coaches and position themselves so their kid gets a better chance than another kid. Are we headed for parents telling their kids as they get older to suck up to the boss and sabotage their co-workers all for the purpose of getting ahead? Don't laugh I think some are sadly headed in that direction.
This brings us to the 2103 St. Louis Cardinals who by the way just two years ago lost their hall of fame manager Tony Larussa and maybe the best player in the game at the time Albert Pujols. WOW, most teams would have mentally folded and grabbed some convenient excuses like some do in the corporate world. For example, ask a sales person why they are having a good year and they give all the great stuff they do. Ask a sales person why they are having a bad year it's all about the bad economy and customers are just not buying … you get it it's NOT about them. The cardinals could have complained and talked badly about Larussa and Pujols leaving, yet they went out a got a first time manager in Mike Matheny who had never managed at this level. I remember telling a client and great friend in St. Louis Cheri, "Cheri when this is all said and done you are going to be thrilled with this guy and he is going to be the steady hand the Cardinals need right now". Last night as the game ended she text me "I'll never doubt you again" where we both shared a silent laugh together. Businesses need to train and coach their employees to overcome adversity and not be so quick to adjust their lack of success to convenient circumstances.
Let review why the Cardinals have been successful:
Mike Matheny
By the way Mike was an ex-brewer and will always remember an infamous play he was involved in. He literally got beaned in the jaw during a game. Most players would have crumbled to the ground and understandably so, but Mike looked back at the pitcher, spit out blood, and walked to first base. His reasoning was "I had to show the pitcher and my teammates I won't give into anything". Incredible, he gets beaned essentially in the face and walks to first base … what a leader who exemplifies "Follow me and we'll get there" leadership. No player or employer will ever challenge this type of leader's toughness. Mike's persona during the game is quiet and focused. Rarely do you ever see him yelling at players rather he looks them in an eye and shows them he has trust. Most managers could learn from this!
The Fundamentals
For years the Cardinals have always been one of the best teams in executing the fundamentals such as bunting to move players over or pitchers who can actually hit or fielding where few errors are made. What's the parallel here you might ask? I literally quit sales training for one reason. I always stressed open-ended questions and would always hear groans from sales people because "everyone" knows what they are and feel it's condescending to revisit such trivial fundamental selling skills. Here is the thing I feel it's the number one area where sales people fail. They show up, no questions pre-written, they ask close-ended questions that ultimately pigeon hole themselves, and they rarely demonstrate active listening (the ability to state back or paraphrase) to a prospect or customer. We tend to forget the fundamentals too much. Here is a suggestion ask a sales rep "What are three new things you learned about that customer" after they meet with a prospect or customer. If they cannot answer I am guessing they were talking too much or not listening or worse both. Guess what I am not really sure all I know is they couldn't answer a simple question a few open-ended questions would have helped them with. Yeah, fundamentals are the key to any team's success!
The Aging Veteran – Carlos Beltran
I cannot tell you how often I hear inside organizations "Don't even bother with him he's close to retirement". Why are we so quick to give up with the cliché notion "Can't teach an old dog new tricks". That's a load of crap! Maybe we've ignored them so long they stopped caring about themselves because we did as leaders. The Cardinals are masters of this. They signed Carlos Beltran (they did the same thing a few years ago with Lance Berkman) from the New York Mets and last night you could hear management talk about how happy everyone was for him. By the way he won one of the games with a homerun. We should never give up on the older workforce. One case and point is a firm we have right here in Milwaukee Wisconsin called Patina solutions. They are a placement firm for older employees but they offer their description this way: "accomplished and specialized professionals". What a great market position to be in as too many people look at older employees as retirement candidates and here is a thriving business that correctly positions them as "seasoned and accomplished". Gosh I Love That!
The Youth – trust comes from believing in them
Young people are amazing we just need to give them room to grow and learn. We need to worry less about results right way and focus more on effort and progress. Corporate and sports youth needs to be managed and coached to get better and not solely worry about results. The Cardinals had over 20 players on their NL series team that were home grown from their farm system. Too many companies spend money on firms to go get them the "right" candidate. If companies adopted coaching as a management practice staff can be nurtured and developed from within thus saving tons of money on recruiting and dramatically reducing turnover. Last, many employees learn when they do leave the grass is never greener on the other side especially when they leave a coaching culture… Huh, I wonder if ask Albert Pujols thinks I'm right!
Here is excerpt from MLB.com about 10 hours after the cardinals won the NL League Series:
ST. LOUIS -- The Most Valuable Player of the National League Championship Series was pitching at Texas A&M just 18 months ago. He was riding the bus on road trips with Double-A Springfield on Opening Day. He didn't turn 22 until July, wasn't a lock for the Cardinals' postseason roster entering September and didn't cement a spot in St. Louis' postseason pitching rotation until he came within an out of a no-hitter in Game No. 158 of 162.
NLDS
Michael Wacha's spot is secure now. He continued his storybook season Friday night by working seven innings of a 9-0 win over the Dodgers that punched the Cards' World Series ticket. Wacha became the youngest NLCS MVP Award winner since 21-year-old Steve Avery of the Braves in 1991, the first rookie to win a postseason series MVP Award since then-Marlins sensation Livan Hernandez in the 1997 World Series, and the first rookie to start and win an NLCS clinching game since the Dodgers' Fernando Valenzuela in 1981.
"We just want him to think that this is normal and this is expected," St. Louis manager Mike Matheny said.
The Lesson: Youth are amazing, trust them, and reward them when they try, challenge them, and watch them progress, and last results are just around third base!
Supportive Players
Every team needs supportive players who are ready to play and without attitude. Yes, everyone wants to play and it's probably an epidemic in youth sports today. Parents yelling and complaining about "their" kid's playing time. What if every parent in the United States asked questions and encouraged their kids to think about the team first wouldn't we have a better workforce? The Cardinals get this. David Freese and John Jay had up and down years but always play without attitude when called upon. David Freese killed the Milwaukee Brewers a few years ago but now he seems to fallen off a bit. But here is the great lesson when pitchers or players come into the dugout he was one of the first players to greet and congratulate or offer support to teammates who were playing. This is as infectious as are bad attitudes. I had a client where a young employee did not get a promotion and he called me really frustrated. What made it really difficult was he was now reporting to the lady who got the job. He said what should I do? I said, "You have to make her look great and every action you take has to be in accordance with her leadership. Show the team you have her back because no one will expect it, thus you will demonstrate great teamwork and leadership". Nine months later he received a similar promotion from the first one in which he did not get.
This was tough me to write because the St. Louis Cardinals have been beating up on my Milwaukee Brewers the past few years, but what a great coaching story. You cannot ignore it. The youth, the aging, the new manager all are working together in a system where players are developed from within. Last, trust me the Milwaukee Brewers are coming as they seem to have taken a similar step in promoting their youth. Should be fun to watch!
Congrats Cardinals You Deserve It!