Engage Your Way to Better Employees and More Sales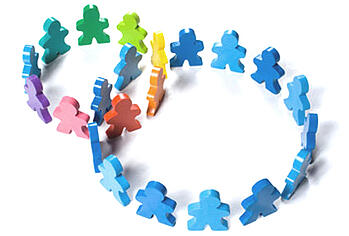 The role of today's employees and managers is changing before our eyes. This change stems from the revolution of engagement, both internally and externally. Connecting with organizations, entities, departments, clients and co-workers is no longer an added benefit, it is a demand. Markets and industries are incredibly competitive and when every person or organization is offering similar products and services, or benefits and wages, complex decisions, such as purchasing, signing on or staying on, are going to come down to less tangible factors. Studies have shown that one of the most influential, intangible factors is engagement.
Less than 30 % of employees are truly engaged but 85 % of those that are say they are committed to staying at the firm.
- Blessing & White Research
Fully engaged customers deliver a 23% premium over average customers in share of wallet, profitability, revenue, and relationship growth.
- Gallup Business Journal, Journal Link
3 unique opportunities for employees and managers to become engaged with their clients, their companies and their co-workers.
Utilizing Business Time
During business hours stop emailing, messaging, and text messaging.
When you need to deliver content, information, set meetings, etc. with clients don't rely on viral messaging to communicate with clients. Make a phone call or make an onsite visit to convey the same message.

Making a phone call to verbally relay your message to your clients will save you from spending additional time attempting to draft a comparable, comprehensible message in print as well as cut down the frequency and depth of miscommunications and/or misconnections.
Making an onsite visit, while less instantly gratifying, helps you to engage with your clients. Taking the time to visit your client on site to help him/her workout a problem, finish a project, review a proposal, etc. demonstrates your credibility as a client point-person, your level of commitment, as well as your attentiveness to your clients account.
Utilizing Non-Business Time
Non-mandatory does not mean not allowed.
Look to attend non-mandatory events, conferences, tradeshows, speaking engagements, etc. Doing so will demonstrate your desire to engage with your company, adjacent departments, and fellow employees.

Show your support and the favor will be returned

If it isn't possible to attend in-person, show your support by doing what you can to help promote said events via social media, personal contacts or community outreach.
Address the Organization's Bottom Line
Continuously challenge yourself to find creative tactics that will impact your organizations bottom line. This should be action driven, not effort driven.
For example: instead of saying you are going to try to make at least one phone call a day to "check-in" on current or past clients, make a true commitment to writing a handwritten note to be included in all deliverable items or packages.
The key to making an impact on the bottom line is incorporating and committing to daily actions, not, "trying," "attempting," or "making an effort" to possibly influence outcomes.
For more infomation on engagement, click below to receive the whitepaper: