Who?
Coca-Cola. Starbucks. Kohls. All these companies have Facebooks and Twitters. From big to small, companies are investing in new social media tools.
What?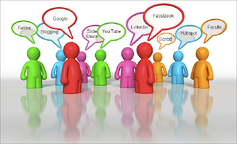 Social media sites.
Where?
Online. Social networking sites such as Facebook, Twitter and LinkedIn. Blog places like WordPress and Google blog. Here is a list of 50 sites that businesses should be involved on: 50 Social Sites
When?
Now! There is no time to waste because your competition has probably already figured out how to harness the tools.
Why?
Social media offers many benefits that traditional advertising does not. First, the cost is significantly lower. Most sites are not fee based, and the time spent to get your information across is much lower. Where creating an entire ad campaign can take months, creating a Facebook page and monitoring it only takes a couple hours a day. Second, social media tools allow you to more closely contact your target audience. You aren't wasting your time broadcasting to a large audience. Instead, your message is more direct and targeted. If the consumer you are trying to reach is on Twitter, than you can directly connect with them by simply clicking the "Follow" button. Finally, most consumers these days are ignoring traditional advertising. TiVo has become a lifesaver for people that want to sit down for a couple minutes and catch up on their shows. And commercials on the radio? No one needs to listen to those anymore thanks to CDs and satellite radio. Consumers want to be able to come to you when they need something, and that is exactly what social media sites allow you to do. They contain information, reviews and sometimes, coupons and deals. This is much more appealing than having to listen to a salesperson's cold-call during dinnertime.
How?
There are many ways to capitalize on social media. If you have a Facebook page, frequently update it with deals and steals for customers because everyone likes to save money, especially now. Let customers know what your company is all about and include discussion pages so customers can become engaged. Join groups on LinkedIn and interact with other business professionals. Find out what they are doing to stay successful through the group discussion pages. Many people do not think that Twitter can be of use to them, but in fact, it is a great outlet. Enter your company name in the "Search" box and find out who is talking about you. If someone is following you or tweeting about you, then request to follow them. It is a great way to show them that you care.
Every great salesperson knows that they can reach their bottom line faster if they are connected with their customers, and social media sites allow you to do just that. So, get online and get started. Business opportunities are out there, and they're just a click away.