"There comes a moment when you have to stop revving up the car and shove it into gear."
- David Mahoney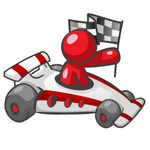 The end of the year is rapidly approaching, are you slowing down? You may have PLANS to put in a huge sales push before the end of the year, but ARE you? Plans are great, but plans without action are literally useless.

The business world may slow during the holidays, but it doesn't come to a complete stop, so why should you? It's up to you to keep the motivation going, and the sales coming in. Find what motivates you, and place a reminder for yourself next to the phone. Whether your motivation is to reach a sales goal, or a picture of the new flat screen you've been eyeing it will encourage you to make those extra calls today, instead of surfing the web for Christmas gifts.

Customers won't sell themselves before the end of the year so get yourself in gear and go! Do NOT make assumptions of who will or will not buy, rather ask the questions and let the customer dictate what will happen. Sales DO HAPPEN in December!
Stay UpBeat!