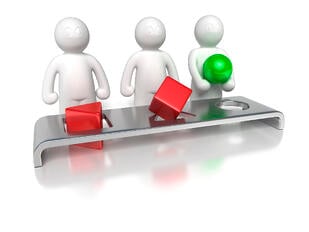 Being a manager can be a very difficult, but very rewarding job. Not only is a manager responsible for themself, but for their employees as well. Managers should be doing everything they can to better improve their employees and the company or organization they work for, which is exactly why all managers should also be coaches.
Leadership nowadays is not just just "I say--you do", it is about teaching, molding, and coaching people into better employees. Managers who are not able to coach, are essentially not doing all that they can to help their employees and business grow and succeed.
For a manager to be a good coach, they need to know what coaching is. Essentially, coaching is helping other people perform better. This can be done by correcting or bettering skills or habits they already have or by helping them develope new skills.
Now that we know all this, how do we get managers to coach?
1. Show managers the benefits of coaching. Coaching creates better and stronger employees, which in turn helps the company or organization reach its goals faster. Why wouldn't managers do all they can to acheive these?
2. Teach managers coaching skills, then have managers practice these skills. Coaching requires a lot of time and skills. Coaches need to know how to listen, observe, give constructive feedback, encourage employees, and much more. Have managers learn these skills, and then practice them with role playing by creating "coachable situations".
3. Coach your managers. Having a coach for managers helps them improve their coaching skills and gives them a good example of what coaching is and how it should be conducted. This allows managers to learn by observing and also gives them someone to turn to when they have a question.
Join us on April 25 at 1:00 CDT for our FREE webinar: 5 Ways to Get Upper Level Management to Support Coaching
http://www4.gotomeeting.com/register/412131559
Download this FREE white paper: